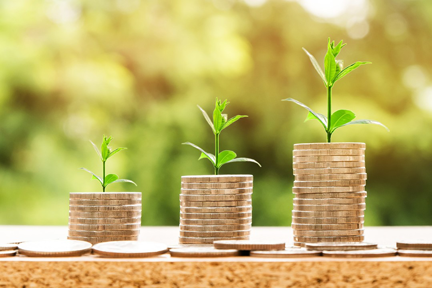 Webinars have always been used to help companies market and sell products and services, either directly through sales presentations or more subtly through educational content or thought leadership. Even webinars organized by nonprofit organizations or those that seem purely educational or instructional in nature probably have an underlying objective to increase mission awareness or introduce people to a new idea or concept, thereby improving the organization's bottom line.

But many companies and organizations use webinars to generate revenue directly from...the webinars themselves! If you have great content and a large following, there can be big bucks in webinars. Here's a brief overview of the two main ways you can monetize your webinars:

1. Fee-Based Webinars. While most webinars are free to attend, many organizations have discovered that content sells. If you have valuable information that people can't get anywhere else and/or respected experts who people want to hear from, there's a good chance that audiences will be willing to pay for access.

In fact, fee-based webinars fit neatly right into the business models of many for-profit content or education providers. Think about a business that provides business training to executives. Or a firm that teaches trading strategies to investors. Or even a self-help guru or a motivational speaker. Those companies and entrepreneurs are already in the business of selling information and insight. Fee-based webinars are simply an extension of that.

Many membership-based organizations offer fee-based webinars as a way to generate additional non-dues revenue. After all, the reason professionals join industry associations and trade groups is to gain access to valuable insider knowledge and expert insight. Many such groups generate revenue from annual conferences and on-site seminars. But fee-based webinars can be much more cost-effective to the organizer and their members.

Fee-based webinars are also very popular with accreditation and certification groups and organizations that offer continuing education credits. But, really, any type of content that people are eager to receive, whether they're required to or not, can be leveraged to generate revenue through an admission fee.

Of course, organizing a fee-based webinar is a little more complicated than organizing a free webinar. Most importantly, you'll need to set up payment processing. If your paid attendees will receive access to a recording of the live webinar after it's over, you'll need to decide how long that access should last and how to protect it from non-paying viewers. And you'll need to formulate a refund policy for unsatisfied attendees or those who miss the live presentation.

2. Sponsored Webinars. With a sponsored webinar, revenue is generated not from the attendees but from one or more sponsors. Where a fee-based webinar charges an attendance fee, sponsored webinars are usually free to attend. A sponsor can be any company or organization that wants to increase its exposure to new leads, prospects, or audiences. Obviously, the larger your network of followers and thus your potential webinar audience, the more you can charge for a sponsorship.

Generally, webinar sponsors receive the benefits typical of any type of corporate sponsorship. Primarily, this means logo placement on the webinar registration page, title slide, and usually a "sponsors" slide at the end of the webinar. The sponsor may also receive verbal acknowledgement by the webinar host at the beginning and end of the webinar and maybe a short call to action. Sometimes, an image or text acknowledgement also appears on all webinar invitation, confirmation, reminder, and follow-up e-mails as well. By way of these placements and acknowledgements, the sponsor receives exposure not only to all webinar registrants and attendees but also to the webinar organizer's entire network during the invitation phase.

One of my favorite ways to structure a webinar sponsorship is with more than one sponsor. Each sponsor should operate in a space that's complementary to, but not competitive with, the others. In this arrangement, each sponsor would agree to promote the webinar to its own network and followers. In this way, all sponsors benefit not only from exposure to new prospects generated by the promotional efforts of the webinar organizer but also originating from other complementary, but non-competitive, businesses or organizations as well. It's a win-win-win for everybody!

You can also get creative with the benefits you offer to your webinar sponsors. Maybe a complementary ad placement on your website. Or access to the final webinar registration and attendance data (if you do this, make sure you notify registrants on the registration form that by registering they are agreeing to receive e-mail messages not only from the webinar organizer but from the webinar sponsors as well). The more benefits you offer to your sponsors, the more you can potentially charge for a sponsorship.