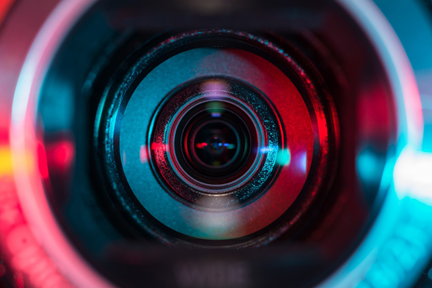 Recently, several of my clients have been using or thinking about using video during their webinars. This wasn't something that I suggested; they came to me with the idea, which tells me that video is becoming a more accepted webinar feature and organizations that host webinars are becoming more comfortable with the concept. But just because you can use video during a webinar doesn't mean that you necessarily should.

First, let's define what is meant by webinar "video," as it means different things to different people. There are three common ways that video, or what some people think of as video, can be incorporated into a webinar:

1. Webcam. When clients tell me they want to use video during a webinar, this is what they usually mean. They want the audience to see a live video stream of the presenter or presenters. You might have seen big corporations or other organizations hosting broadcast-quality "webcasts" where the presenter is standing at a lectern or a group of panelists are sitting on a stage. This is an entirely different kind of streaming video, requiring specialized software and professional video equipment and sometimes even a studio setup, and it's usually cost-prohibitive to most organizations. For a typical webinar, if you want the audience to see the presenters, you'll be using an ordinary computer webcam.

2. Video Clips. This is probably what comes to mind for most people when they think of webinar video. It's essentially the playback of a YouTube video or MP4 file during a webinar. Some webinar platforms give you the ability to upload a video into their software for easy playback. Others offer a direct playback connection to YouTube or let you "share your screen" (more on that in a moment) to enable the audience to see a video that you play locally on your own computer. If you've created a short promotional video or you have some footage of a recent event that you're referring to in your presentation, incorporating it into your webinar is relatively easy.

3. Screenshare. Screenshare is probably the least video-like of the webinar video options, but some people group this into the same category with webcam video and video clips. Most webinar platforms have offered screensharing capabilities for years now. It lets you show your audience anything that you can see on your own computer screen, including individual applications or even your entire desktop. It's used most often as a way to demonstrate software in real time or provide a guided tour of a live website. That's not really video, per se, but as was already noted, you can also use screenshare to play a video clip for your audience.

One of the great things about webinars is that they're more engaging than most other modes of remote communication and the multimedia capabilities of most webinar platforms give you many different ways to engage. That said, the ability to use video to increase engagement would seem like a no-brainer, right? Well, maybe not.

Let's take webcam video, for instance. There's a big difference between standing at a lectern and giving a presentation to an in-person audience and sitting in front of a webcam and giving a presentation to an online audience. With an in-person audience, you're free to look around the room at different audience members, look down at your notes from time to time, and even walk around a little. With an online audience, your face is right there in front of each and every attendee. They can't see the other members of the audience. From their perspective, it feels like you're talking directly to them. Unless you're prepared to maintain steady eye contact with your camera lens for your entire presentation, webcam video might not be such a good idea.

And it's harder than you might think. Not only will you probably want to refer to your notes occasionally, but there are a lot of other reasons why you might need to look away from your camera. Are there questions queuing up in the Q&A area? If you're using a moderator, are they trying to get your attention about something in the private chat box? Do you need to tap a key on your keyboard or click an icon on your screen to advance your slides?

When a client tells me they want to use webcam during a webinar, the first thing I usually ask them is whether there's a compelling reason why the audience needs to see the speaker. Yes, there are certain types of presentations where it's vital that the audience feels a personal connection with the presenter. For instance, an all-staff address by a new CEO or a motivational speech by a self-improvement guru. In cases like this, providing a live webcam feed of the speaker might make perfect sense. But does your audience really need to see you during an educational or lead generation webinar? Sure, it could make your presentation more engaging. But it takes a very practiced and polished webinar presenter to pull off a webcam presentation.

If you do decide to use webcam video to enhance your webinar presentation, make sure to practice your delivery using a live webcam with your chosen webinar platform until you feel as comfortable as possible with the entire process. It's almost essential that you use a host or moderator to run and monitor the webinar software so that you can focus exclusively on your webcam. A good compromise might be to divide your presentation time between webcam and slides. For example, you could introduce yourself and begin your presentation on camera, then turn the webcam off as you transition to slides. At the conclusion of your slide presentation, you could come back on camera for your closing remarks. In this way, your audience will have a chance to see you, if you think that's important, but you'll be able to take a break from the intense focus that you'll need to maintain when your webcam is on.

A more convincing case can usually be made for using video clips during a webinar. Most webinar platforms make it relatively easy to upload a video clip and play it back to an audience. Just make sure to keep your clips short—more than a few minutes is probably too long—and don't play more than two or three clips during your webinar. A video clip can help increase audience engagement, but only up to a point. After all, your audience showed up to see a live presentation, not a pre-recorded one. You also need to be aware that, depending on the webinar platform you're using, if some of your attendees are accessing the webinar audio over the phone, they might not be able to hear any sound associated with your video clips. You'll need to tell them to turn on their computer speakers when it's time to play the video.

As for screenshare, I don't have any major reservations about using it when a software demo or some other kind of screen presentation needs to occur in real time. In fact, some of the less sophisticated webinar platforms don't allow you to upload your slides into the webinar software and the only way you can present them is via screenshare. If screenshare will be a part of your webinar, make sure to practice the transition from slides to screenshare and back again. The onscreen mechanics of doing so can sometimes be tricky so you'll want to feel confident about your ability to toggle back and forth smoothly. It's also important to rehearse how you'll navigate and interact with whatever application you'll be sharing with your audience. You should know in advance exactly where you'll be clicking and what path you'll take.

Each year, webinar software vendor ON24 produces a webinar benchmarks report based on data from their users. According to the 2014 report, 9 percent of webinars incorporated some form of video. That number jumped to 16.5 percent in 2015 and 17.2 percent in 2016. Apparently, my suspicion that video is becoming a more accepted part of the webinar experience is warranted. Whether you should be using video depends on your particular circumstances and how well you can balance the potential reward of increased engagement with the possible risk of being perceived by your audience as not quite up to the task.